BACKING A START-UP FOOD COMPANY
The first start-up company to be included in the Innovation Lab is Burnt, a food company developing an app for the F&B space with the mission of bringing the industry to the forefront.
"For Burnt, joining the Aleph Innovation Lab has been a massive boost. The backing of the Aleph team gives us confidence and validity that we are working on something that has the potential to revolutionise the F&B space. I believe the team was able to see from the get-go that we are extremely passionate about the industry and care deeply about the people for whom we are building this product.
The Innovation Lab has given us a great team to tap into as we navigate our journey as a start-up in a booming industry. Aleph's years of experience in hospitality and F&B give us an advantage most founders are not lucky enough to get. As first-time entrepreneurs, the mentorship is something we are very excited about."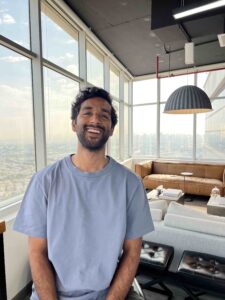 Joseph Jacob
Co-founder & CEO
Burnt